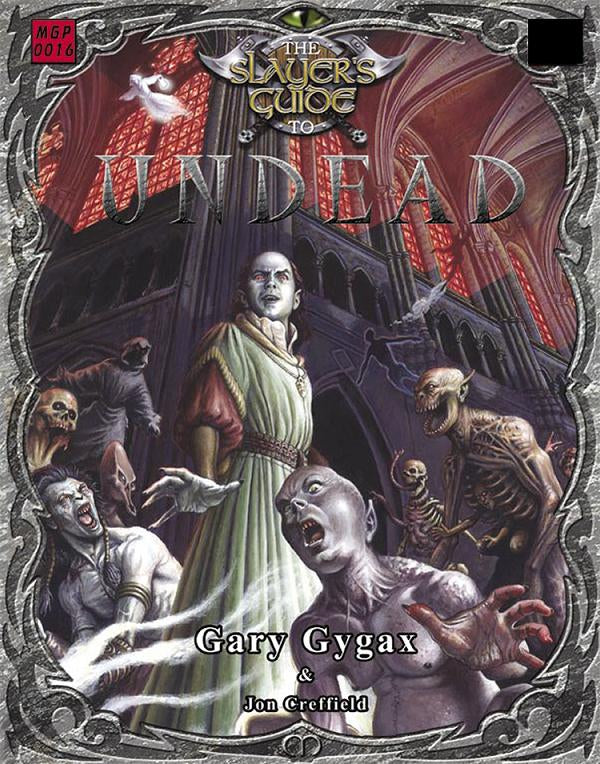 The Slayer's Guide to Undead ebook
Written by Gary Gygax, this book contains undead that have come and gone, and remain! Because they are so integral a part of any fantasy role-playing game campaign, these creatures of the night will be forever a part of the deadly dangers adventurers must face. Of all the different sorts of monsters, the undead lend themselves best to augmentation, combination, and variation so as to present a new and shuddersome face to what seems a familiar theme in both folklore and game lore.

Animate dead things that should not be, malign human spirits roving the earth, are mainly a thing of legend and fable.  Of course Greek mythology speaks of skeletal warriors and the shades of the dead, and more current primitive myth deals with the whole spectrum of what we consider here as the undead.  That said, the whole class, physical undead and non-corporeal spirits alike, are basically the stuff of horror rather than fantasy.  Why were such creatures included back when the original game was being written?  There are two main reasons.  First, the undead make simply marvelous monsters for the player characters to contend with.  Second, the existence of living dead and Evil spirits gave the cleric class more meaning, empowered them beyond mere healers and the casters of spells less generally effective that those of mages.
Here is a brief survey of how such creatures came into being for the game, the genesis starting all the way back with the Chainmail rules in 1971.  Delving into mythology, legends, and fable brought some of the undead to the fore in the works.  It was authored fiction that lent the main inspiration for the creation of the whole class though.  For example, the lich as presented had no roots in any of the sources mentioned, but building from the monsters that were created thus, that monster came into being as the top of the corporeal undead food chain, if you will.  Who can resist the lure of a malign spell-worker using dark arts to retail a semblance of life after dying?  In the film Big Trouble in Little China, the villain was certainly a lich of sorts, a specter-lich perhaps.
Mongoose Publishing is completely dedicated to your total satisfaction. If you have any suggestions or comments please email us at sales@mongoosepublishing.com.
Making A Purchase
Making a purchase could not be easier. Just browse our catalogue, and click on any items that you wish to buy and put them into the shopping cart. After you have finished your selection, click on 'Order' and you will be asked for a few details that we need to be able to satisfy the order.
We accept credit and debit card payment, as well as PayPal. If you are shopping from anywhere outside the US or UK, place your order and your credit card company will convert the transaction to your own currency. We accept all major credit cards.
Shipping And Handling
Shipping is currently charged at a flat rate of $8 for customers in the US or £4 for customers in the UK, or $18/£8 for orders anywhere else in the world.
Domestic orders with a regular street address will usually be sent out via the post office.
Orders over £100 to UK addresses or $150 to US addresses will be free of postage charges. This includes military BFPO/AFPO addresses.
Delivery Schedule
We will process your order right away. We aim to turnaround orders within one working day, but please allow 14 days for delivery if you are overseas.
Returns Policy
If you are not completely satisfied with your order, we guarantee to exchange any goods or refund your money, for whatever reason.  We guarantee all of our products.
Before returning unsatisfactory goods please contact us.
PLEASE NOTE: Mongoose Publishing is not responsible for costs incurred in supplying or returning correctly supplied and undamaged goods. We recommend that returned items are sent by Recorded Delivery. In the case of wrongly supplied or damaged goods we will refund your postage costs.
Mongoose Publishing reserves the right to alter or amend the specifications and/or prices of the products offered for sale, or withdraw them completely without prior notice.
Our Guarantee is in addition to your statutory rights.
Credit Card Security
We know of no documented cases of credit card fraud using our shopping system over the Internet. All credit card numbers are encrypted in the software when the order is placed using 128 bit encryption. They are not held in clear text on any web site.
Guarantee
We like our customers to be pleased with their purchases, and will replace or exchange any item with which you are not fully satisfied within a period of 30 days as long as the item is returned to us in saleable condition.
Reaching Us
If you need to reach us, please email us on sales@mongoosepublishing.com, or write to us at Mongoose Publishing, 52-54 Cricklade Road, Swindon, Wilts, SN2 8AF, United Kingdom.
Privacy Policy
Mongoose Publishing does not disclose buyers information to third parties. Cookies are used on this shopping site, but only to keep track of the contents of your shopping cart once you have selected an item.