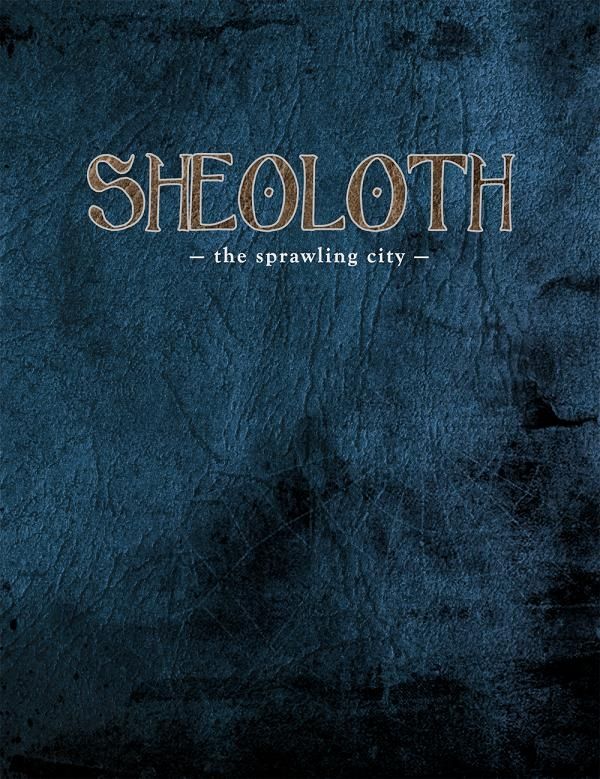 Sheoloth: The Sprawling City
A complete campaign setting featuring a huge Dark Elf city and its inhabitants - survival of player characters is not guaranteed...

Far below the skies of the surface world, beyond the notice of many of the cities, towns and villages above, lies Sheoloth, a city of mystery, intrigue, and danger where the formidable and cunning dark elves live. A city full of priestesses that worship alien beings of immense power, creatures bending reality to their whim, drawing upon primal fears to shape their forms.
The Dark Mother's plots and plans ensnare the whole city in a layer of subtle and not-so subtle-machinations. There in the shadows of the city she watches from her lair, eyes never leaving the most promising of her servants.
Noble houses constantly vie for power; the most powerful can be lost in seconds should they fail in their schemes, so they all try to curry favour in the Dark Mother's court and protect their positions, all the while making sure daggers are firmly placed in the backs of their enemies and the throats of their allies.
The dark elves here need to be careful, for they have enemies above and below, and have to content with their own callous natures. Unknown to them, they have enemies within the city's own shadows – the ovarisites, a strange race of highly intelligent creatures that plot and plan their demise.
They have concocted bizarre birth ceremonies to ensure the dark elves need them and allow nigh on unrestricted access to the young. Not even the Dark Mother or other gods of the dark elves are aware of the true danger these cunning beings pose.
There are other factions in the streets and alleys of Sheoloth, other branches of dark elf society that seek to seize control one way or another, from the Church of the Killer, the masculine god who attempts to wrest power away from the Dark Mother, to the Incabulos – dangerous heretics misguided in their belief that the power of the priestesses can be stolen, rather than offered as a gracious gift by the Dark Mother.
The residents of the city must also contend with squabbling merchants, wily thieves and deadly assassins. The shadows cast by these groups interweave with common folk and nobility alike, and not a day goes by when some plan fails or succeeds, resulting in loss of life or freedom either way.
This book allows players to create dark elf characters and explore the City of the Dark Mother from top to bottom, immersing them in dark elf culture for the Legend RPG while providing up new advanced skills such as Style and Intimidation. New professions such as Assassins and Warlocks open the door to the dark elves' magical and vicious natures, while the dark elven magic of Shadowcraft, the ability to shape shadows into living beings or objects. Fleshcrafting, too, has its own dark secrets
So prepare to explore the city from the Ashen Bulwark to the Lair of the Dark Mother; just keep one hand on your dagger.
Welcome to Sheoloth.
Mongoose Publishing is completely dedicated to your total satisfaction. If you have any suggestions or comments please email us at sales@mongoosepublishing.com.
Making A Purchase
Making a purchase could not be easier. Just browse our catalogue, and click on any items that you wish to buy and put them into the shopping cart. After you have finished your selection, click on 'Order' and you will be asked for a few details that we need to be able to satisfy the order.
We accept credit and debit card payment, as well as PayPal. If you are shopping from anywhere outside the US or UK, place your order and your credit card company will convert the transaction to your own currency. We accept all major credit cards.
Shipping And Handling
Shipping is currently charged at a flat rate of $8 for customers in the US or £4 for customers in the UK, or $18/£8 for orders anywhere else in the world.
Domestic orders with a regular street address will usually be sent out via the post office.
Orders over £100 to UK addresses or $150 to US addresses will be free of postage charges. This includes military BFPO/AFPO addresses.
Delivery Schedule
We will process your order right away. We aim to turnaround orders within one working day, but please allow 14 days for delivery if you are overseas.
Returns Policy
If you are not completely satisfied with your order, we guarantee to exchange any goods or refund your money, for whatever reason.  We guarantee all of our products.
Before returning unsatisfactory goods please contact us.
PLEASE NOTE: Mongoose Publishing is not responsible for costs incurred in supplying or returning correctly supplied and undamaged goods. We recommend that returned items are sent by Recorded Delivery. In the case of wrongly supplied or damaged goods we will refund your postage costs.
Mongoose Publishing reserves the right to alter or amend the specifications and/or prices of the products offered for sale, or withdraw them completely without prior notice.
Our Guarantee is in addition to your statutory rights.
Credit Card Security
We know of no documented cases of credit card fraud using our shopping system over the Internet. All credit card numbers are encrypted in the software when the order is placed using 128 bit encryption. They are not held in clear text on any web site.
Guarantee
We like our customers to be pleased with their purchases, and will replace or exchange any item with which you are not fully satisfied within a period of 30 days as long as the item is returned to us in saleable condition.
Reaching Us
If you need to reach us, please email us on sales@mongoosepublishing.com, or write to us at Mongoose Publishing, 52-54 Cricklade Road, Swindon, Wilts, SN2 8AF, United Kingdom.
Privacy Policy
Mongoose Publishing does not disclose buyers information to third parties. Cookies are used on this shopping site, but only to keep track of the contents of your shopping cart once you have selected an item.