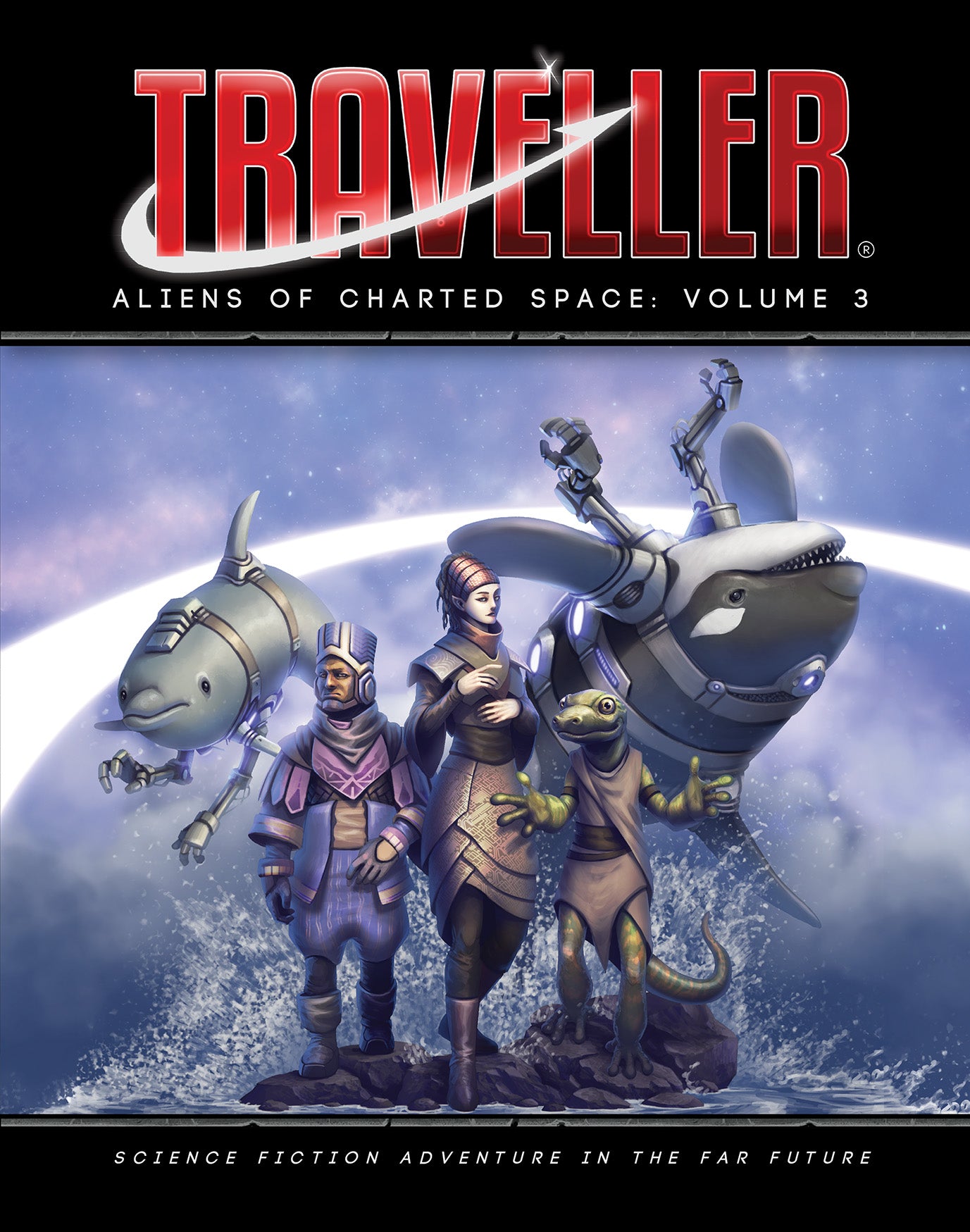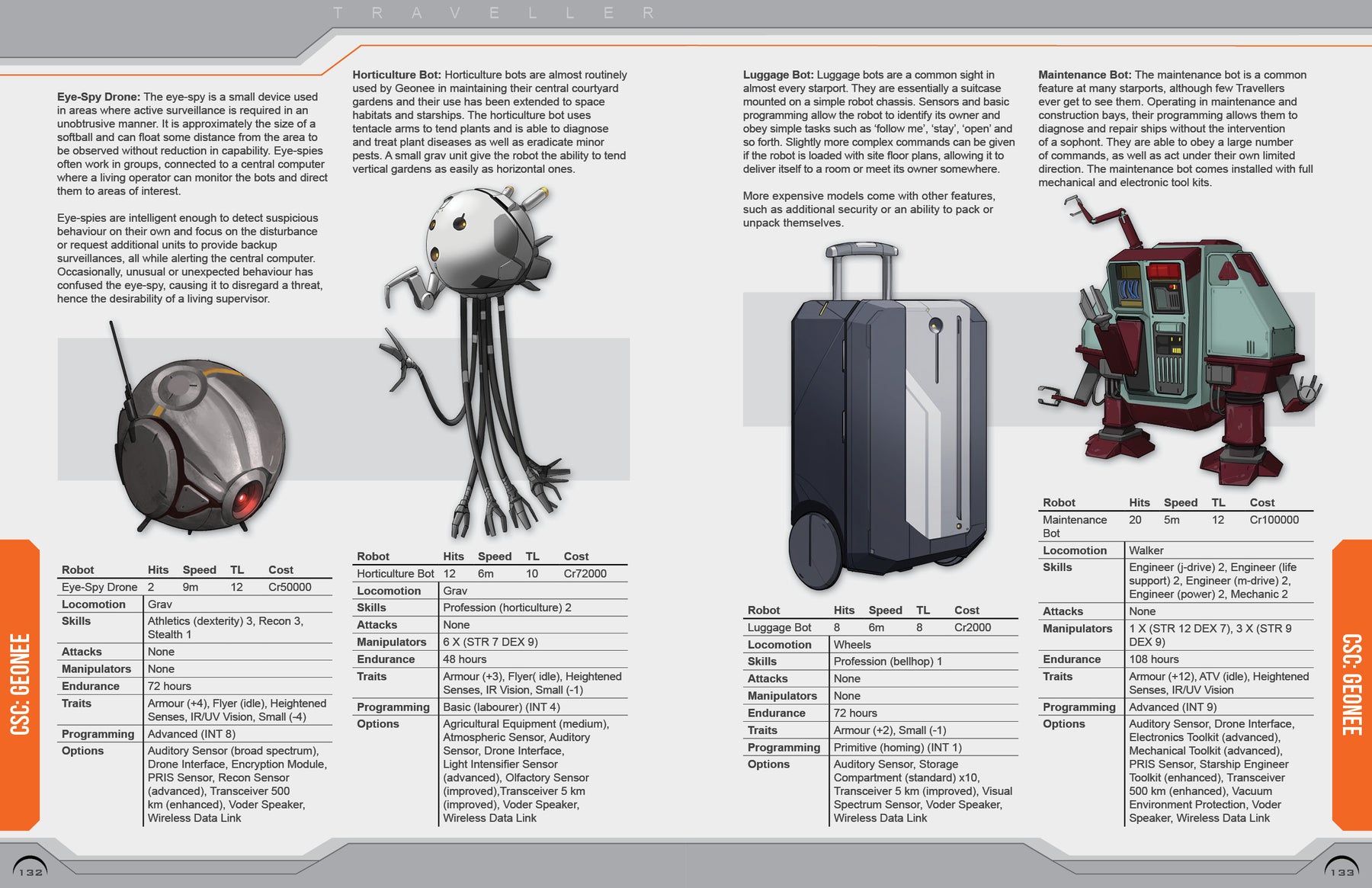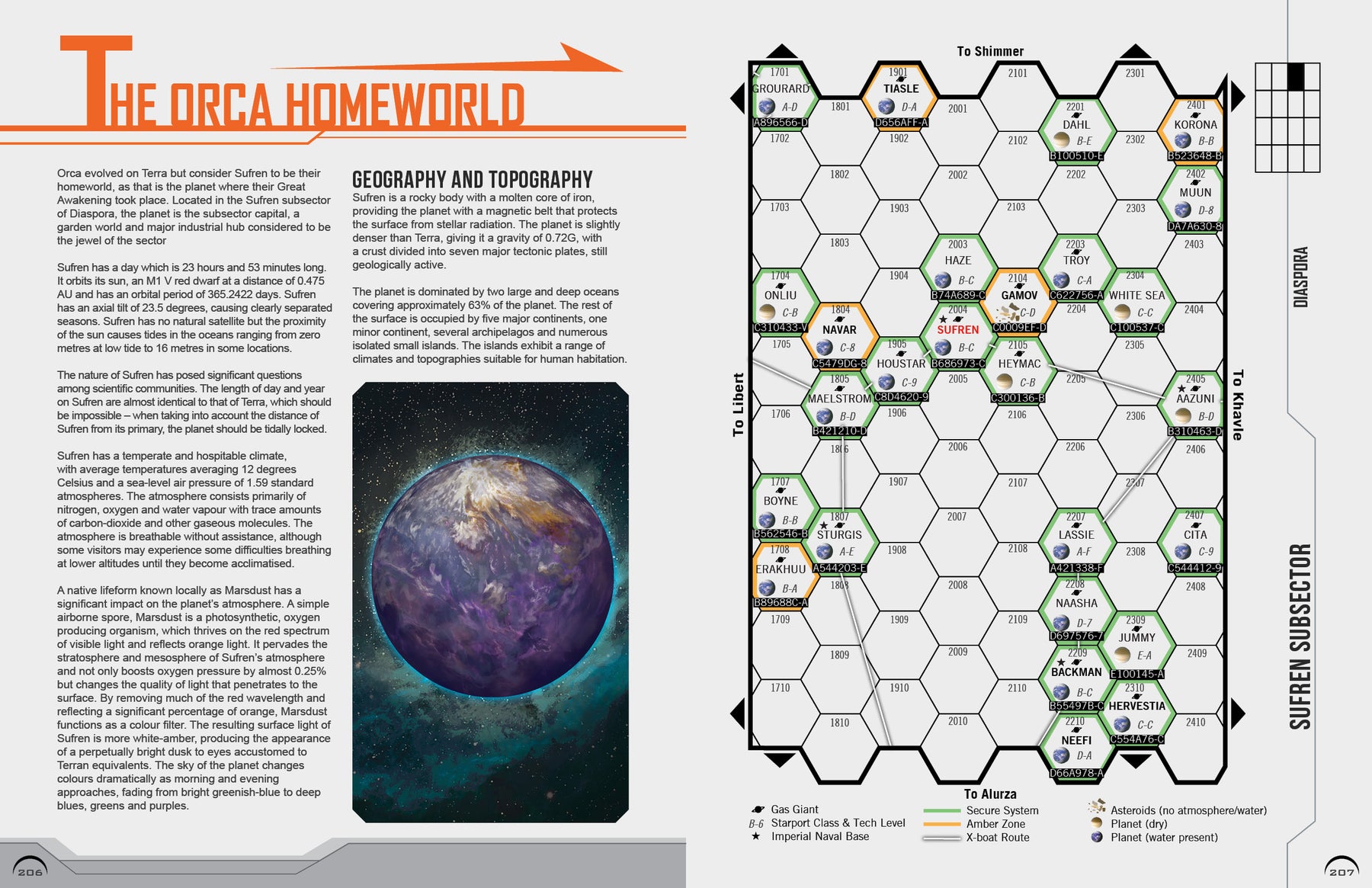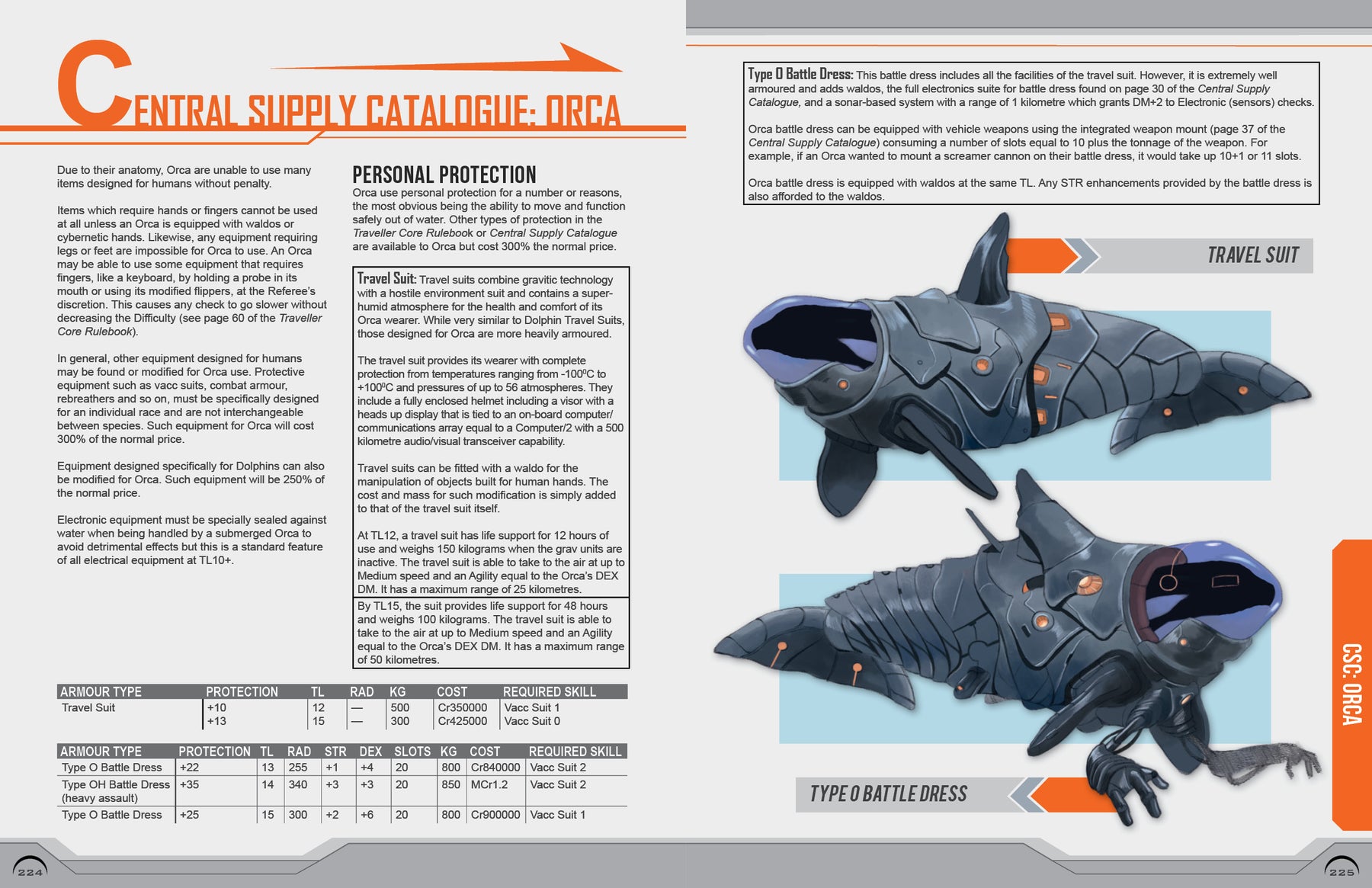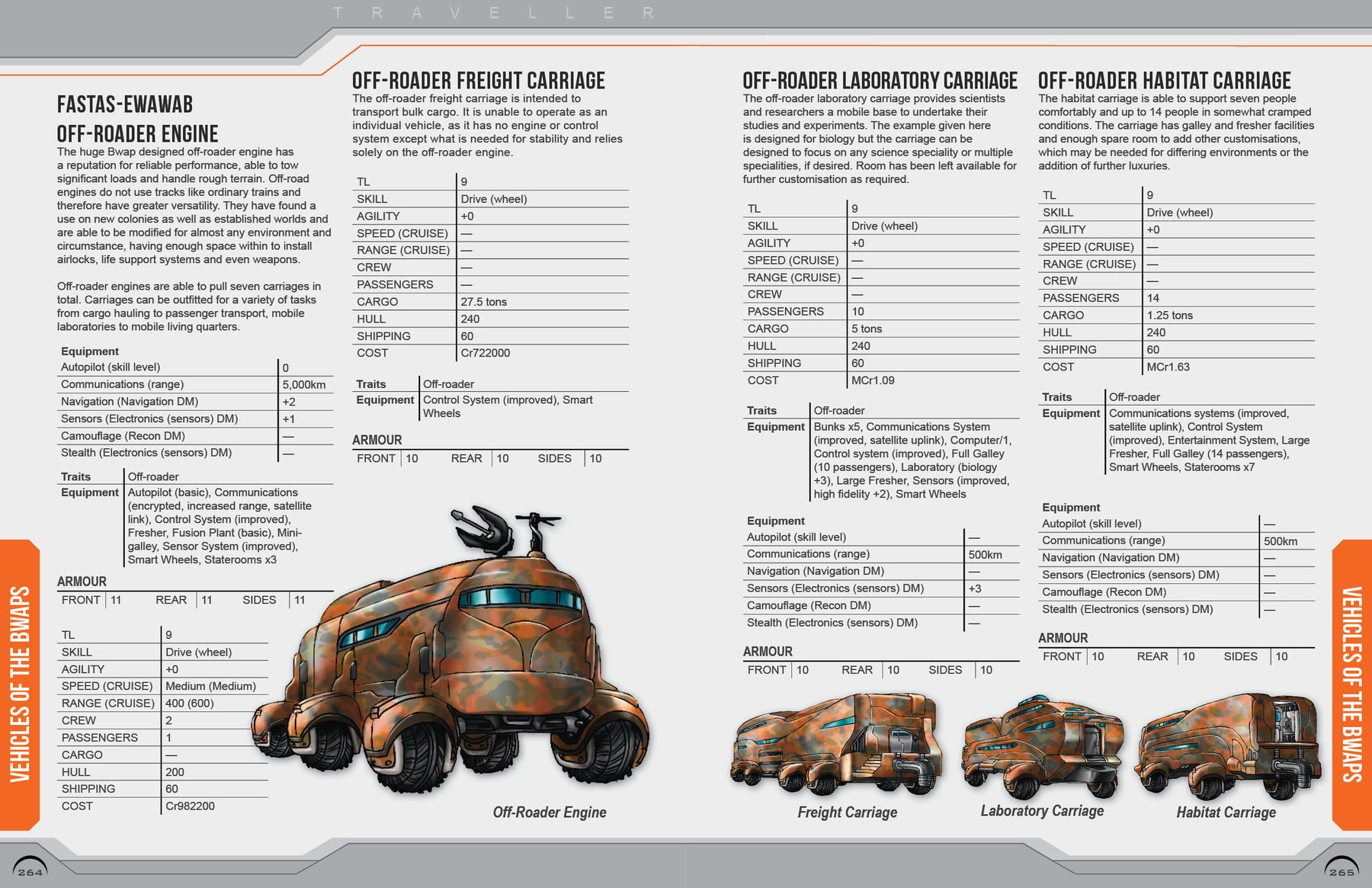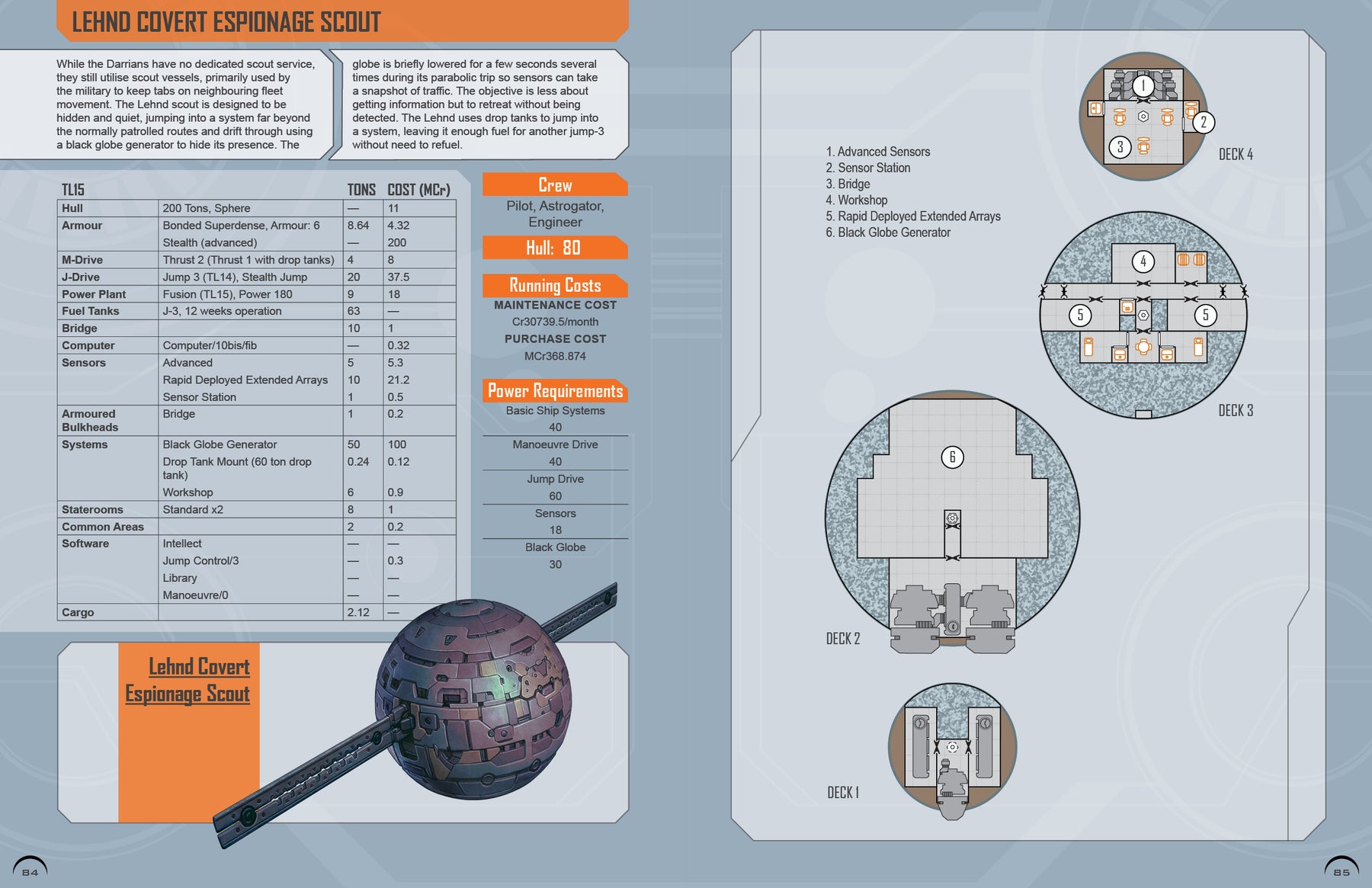 Aliens of Charted Space Vol. 3
Aliens of Charted Space Volume 3 explores five races – the pacifist Darrians, the enigmatic Geonee, the playful Dolphins, the aloof Orca, and the bureaucratic Bwaps. Within these covers you will discover the culture and society of these races, as well as their physiology and their psychology.

Aliens of Charted Space Volume 3 explores five races – the pacifist Darrians, the enigmatic Geonee, the playful Dolphins, the aloof Orca, and the bureaucratic Bwaps. Within these covers you will discover the culture and society of these races, as well as their physiology and their psychology.
Darrians
The Darrians are known to be a pacifistic race who value excellence in scientific and artistic endeavours. Many believe the Darrians an easy target, or that their outlook makes them inconsequential on the galactic stage. Nothing could be further from the truth. The Darrians are heirs to some of the most advanced technology available in Charted Space, and their advancement continues. For those who believe they can conquer this race of pacifistic scientists and artists, the Darrians have a feared weapon capable of causing a star to go supernova –the Star Trigger.
Geonee
The Geonee claim to be the decedents of the Ancients, and have the ruins and remnant technology to support this. When first contacted by the Vilani, they were thought to be a Major Race until it was discovered they had reverse engineered their jump drive, causing the retraction of their position and relegating them to become a Minor Race. The Geonee have struggled to have their achievements recognised by the greater interstellar community ever since.
Dolphins
Dolphins where gifted sophoncy by GenAssist, a genetic engineering corporation founded on Solomani principles. The project was a success, and Dolphins have become recognised as a Minor Race in their own right. Their communities are based on principles of total freedom and equality, but they owe a debt of honour to the humans who gave them reasoned thought.
Orca
The Orca are another race granted sophoncy by GenAssist, but this time grudgingly. The project to raise them suffered a serious setback which nearly ended the programme if not for the generosity of the people of Sufren. Matriarchal and aloof, the Orca are far less friendly than their Dolphin cousins, and do not share their outlook,  instead holding principles of matriarchal veneration and mindfulness.
Bwaps
Evolved amid the swamps of an alien world, Bwap civilisation grew slowly though cooperation and the universal belief that they all have an individual and unique place in the universe to fulfil. Their obsession with minutia and fine detail placed them in the perfect position to make themselves indispensable to the bureaucracy of the Ziru Sirka, granting them access to technology denied to others.   
This book contains rules for creating Travellers from each of these alien races, High Guard additions and new ships, and Central Supply Catalogue entries for their new equipment.
Mongoose Publishing is completely dedicated to your total satisfaction. If you have any suggestions or comments please email us at sales@mongoosepublishing.com.
Making A Purchase
Making a purchase could not be easier. Just browse our catalogue, and click on any items that you wish to buy and put them into the shopping cart. After you have finished your selection, click on 'Order' and you will be asked for a few details that we need to be able to satisfy the order.
We accept credit and debit card payment, as well as PayPal. If you are shopping from anywhere outside the US or UK, place your order and your credit card company will convert the transaction to your own currency. We accept all major credit cards.
Shipping And Handling
Shipping is currently charged at a flat rate of $8 for customers in the US or £4 for customers in the UK, or $18/£8 for orders anywhere else in the world.
Domestic orders with a regular street address will usually be sent out via the post office.
Orders over £100 to UK addresses or $150 to US addresses will be free of postage charges. This includes military BFPO/AFPO addresses.
Delivery Schedule
We will process your order right away. We aim to turnaround orders within one working day, but please allow 14 days for delivery if you are overseas.
Returns Policy
If you are not completely satisfied with your order, we guarantee to exchange any goods or refund your money, for whatever reason.  We guarantee all of our products.
Before returning unsatisfactory goods please contact us.
PLEASE NOTE: Mongoose Publishing is not responsible for costs incurred in supplying or returning correctly supplied and undamaged goods. We recommend that returned items are sent by Recorded Delivery. In the case of wrongly supplied or damaged goods we will refund your postage costs.
Mongoose Publishing reserves the right to alter or amend the specifications and/or prices of the products offered for sale, or withdraw them completely without prior notice.
Our Guarantee is in addition to your statutory rights.
Credit Card Security
We know of no documented cases of credit card fraud using our shopping system over the Internet. All credit card numbers are encrypted in the software when the order is placed using 128 bit encryption. They are not held in clear text on any web site.
Guarantee
We like our customers to be pleased with their purchases, and will replace or exchange any item with which you are not fully satisfied within a period of 30 days as long as the item is returned to us in saleable condition.
Reaching Us
If you need to reach us, please email us on sales@mongoosepublishing.com, or write to us at Mongoose Publishing, 52-54 Cricklade Road, Swindon, Wilts, SN2 8AF, United Kingdom.
Privacy Policy
Mongoose Publishing does not disclose buyers information to third parties. Cookies are used on this shopping site, but only to keep track of the contents of your shopping cart once you have selected an item.