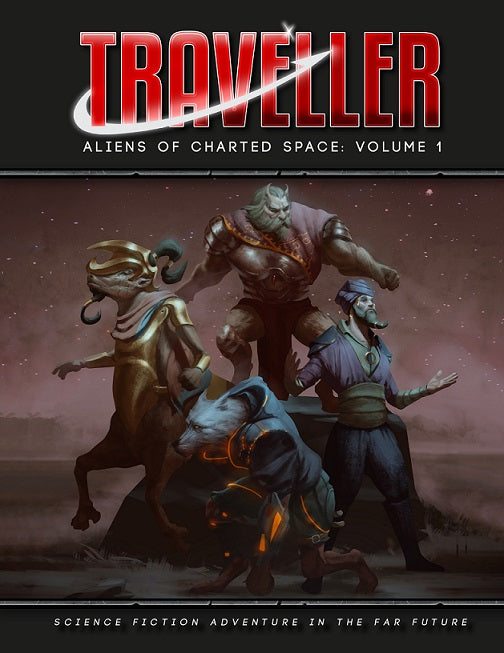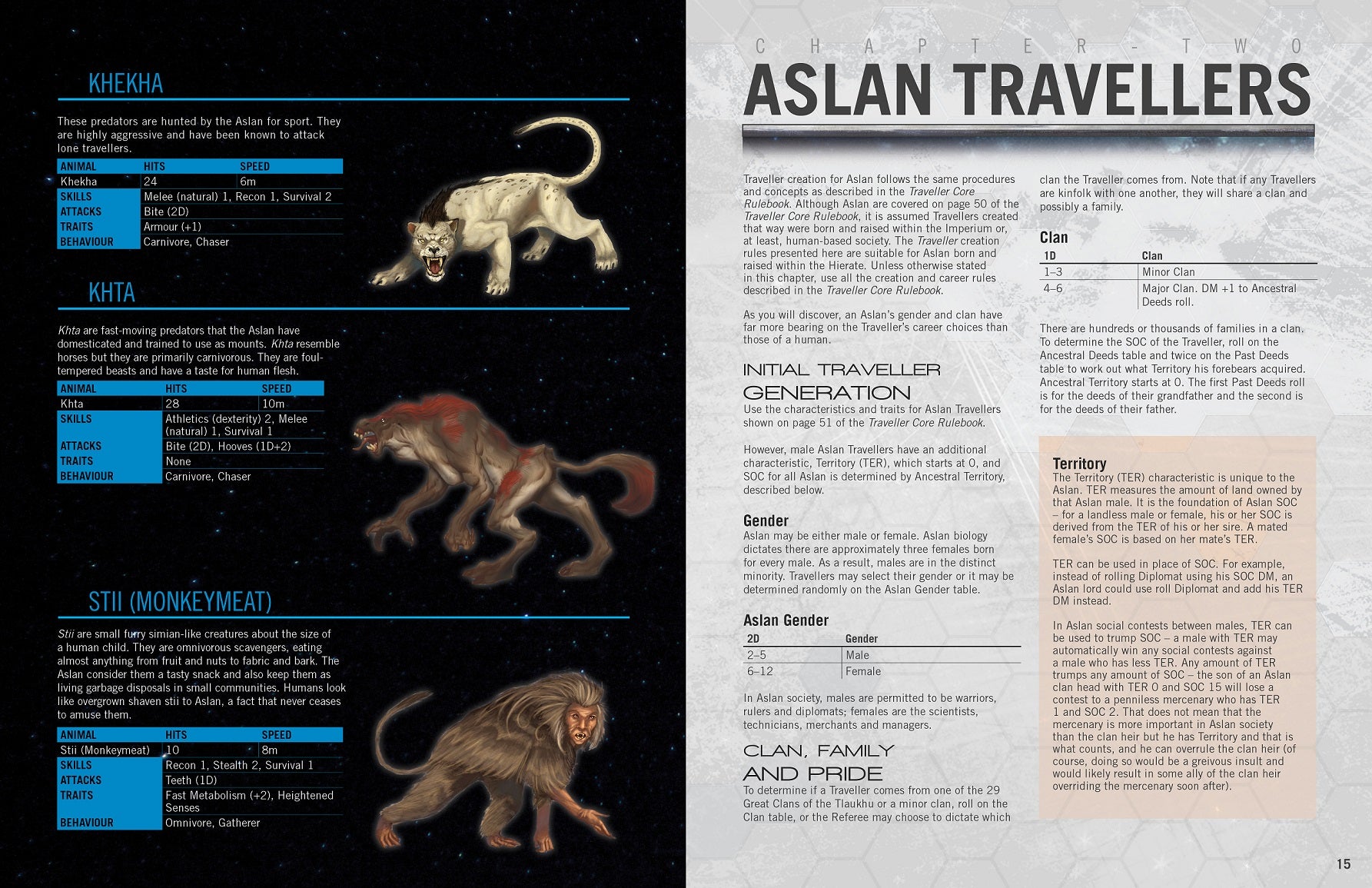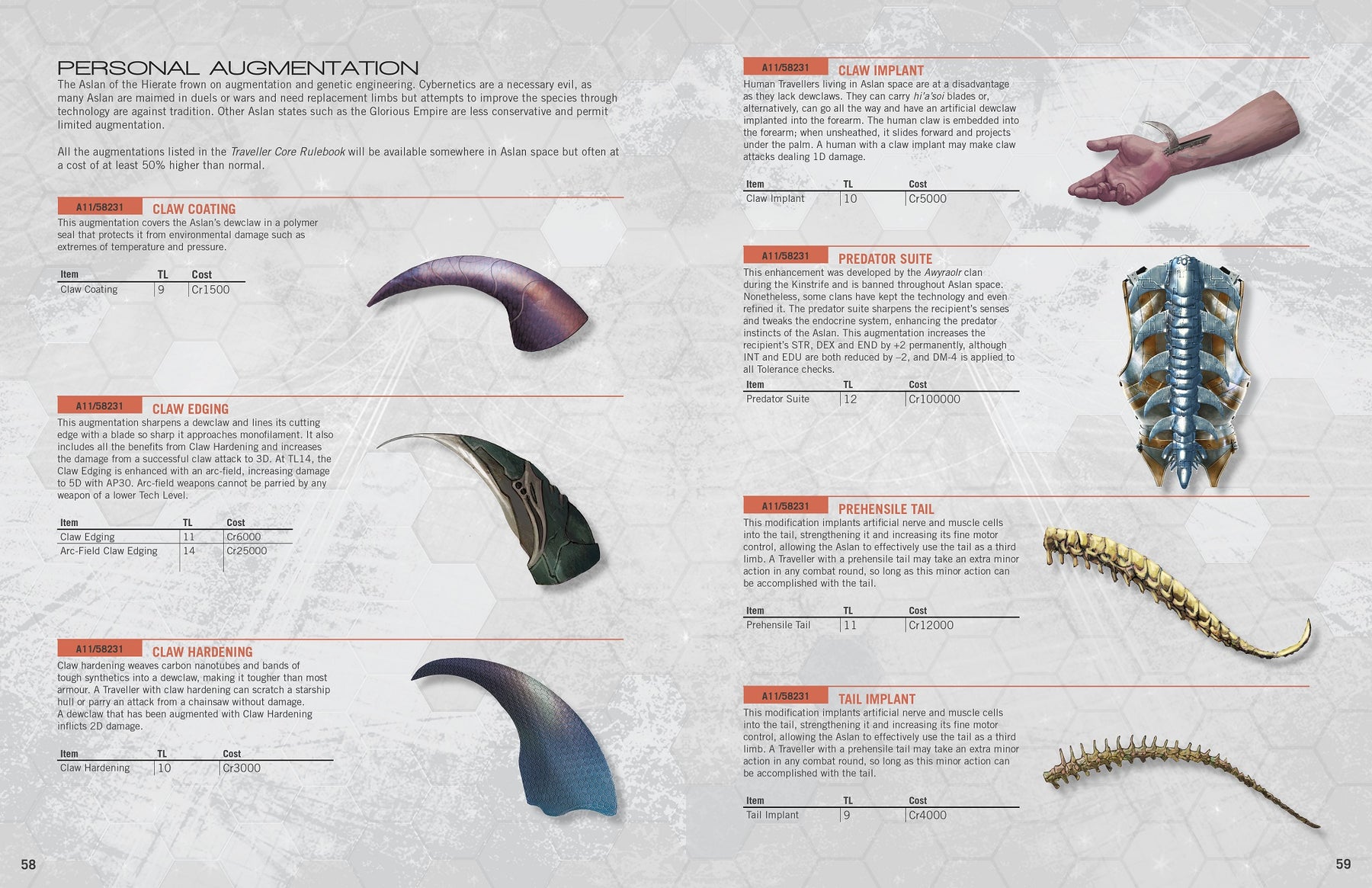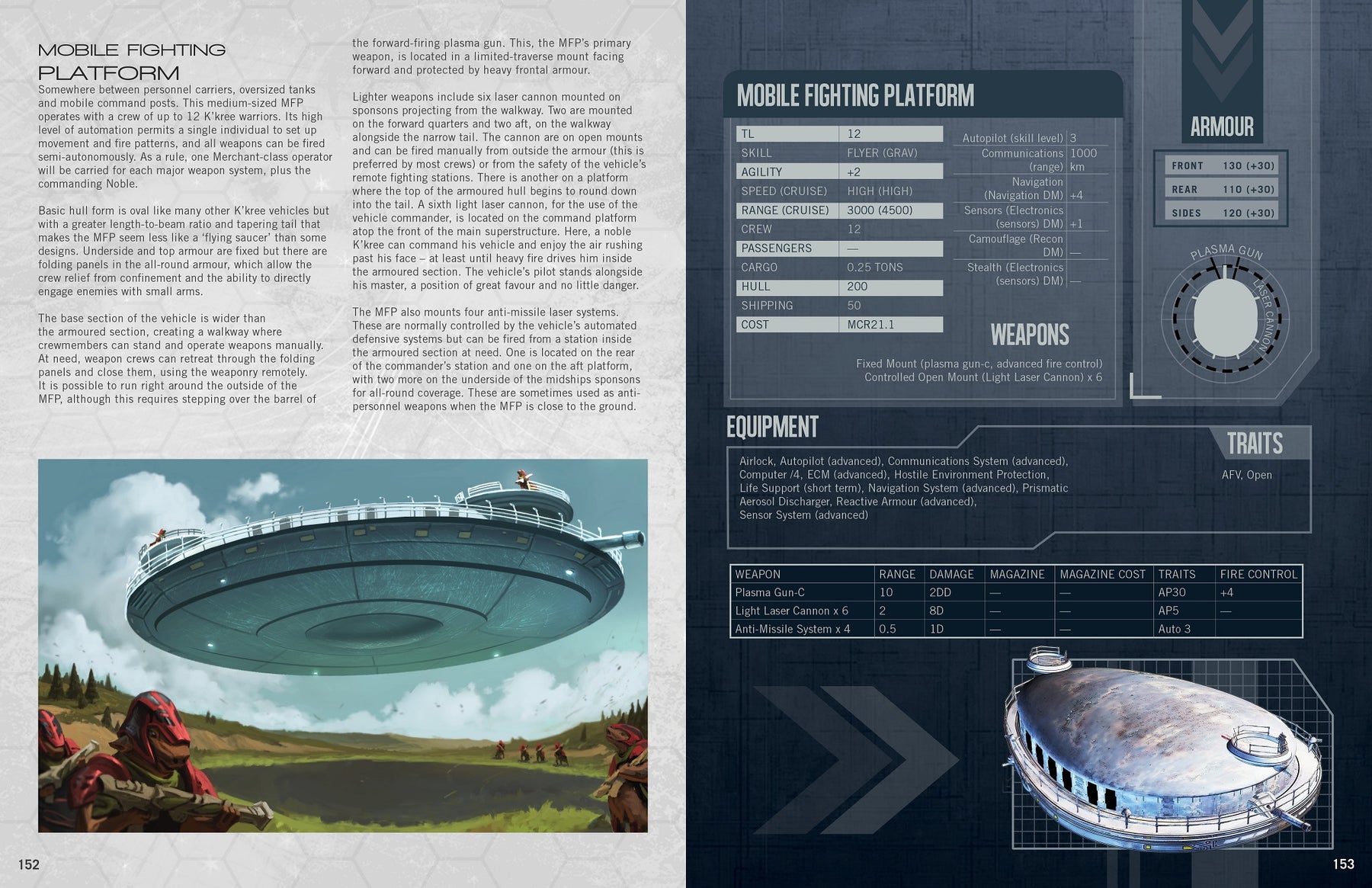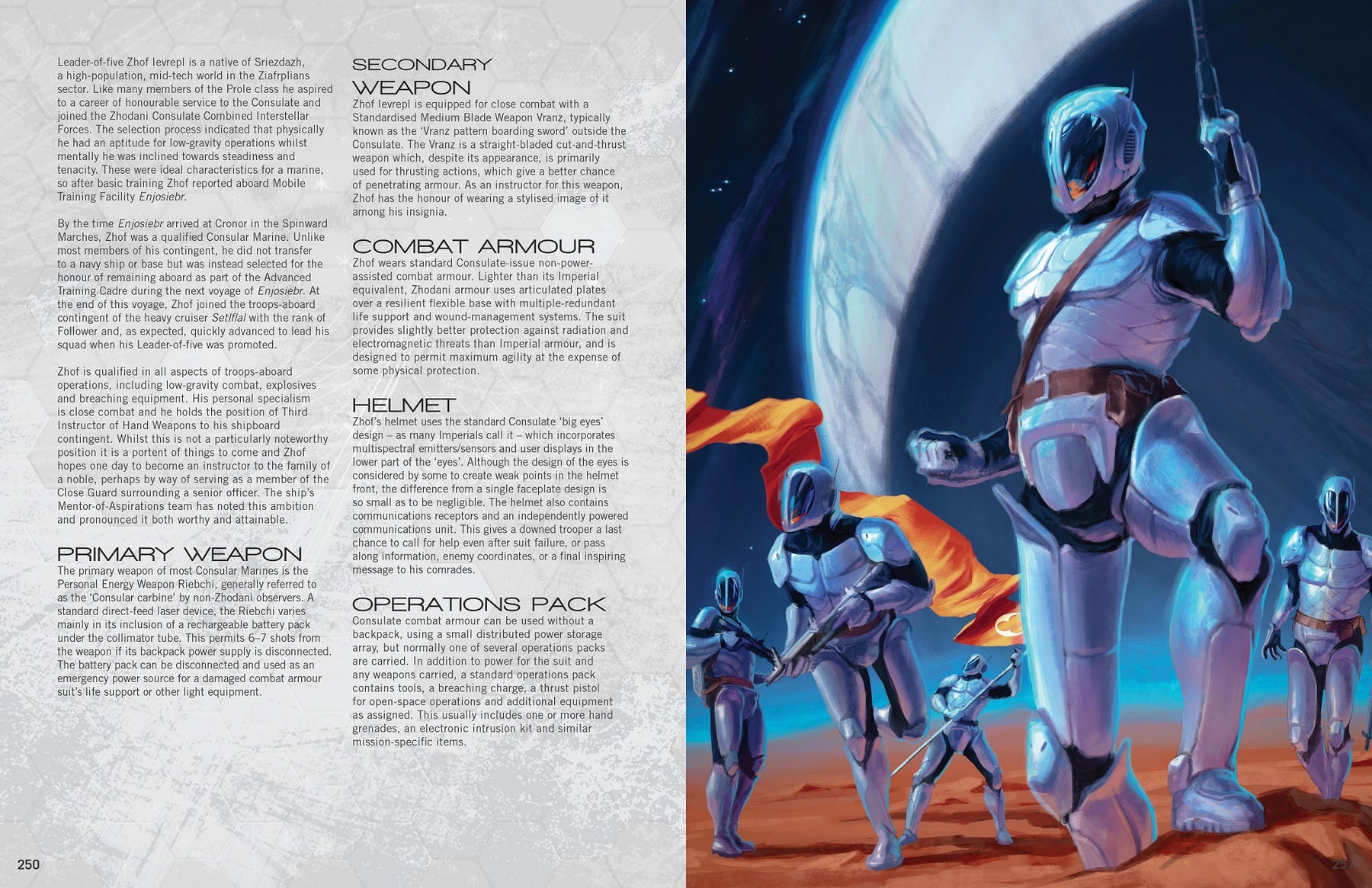 Aliens of Charted Space Vol. 1
This book contains rules for creating Travellers from the Vargr, Aslan, Zhodani and K'kree, High Guard additions and new ships, and Central Supply Catalogue entries for their new equipment.

Aliens of Charted Space Volume 1 details four spacefaring cultures, three of them alien and one curiously familiar. These are the Zhodani, humans transplanted from Earth to develop in far-off Zhdant. Their well-ordered society is very different to the squabbling mini-states of the Vargr despite sharing a common Terran ancestry. The Aslan and the K'Kree, meanwhile, are polar opposites; proud warriors and militant herd-creatures.
This book contains rules for creating Travellers from each of these alien races, High Guard additions and new ships, and Central Supply Catalogue entries for their new equipment.
The Aslan
The Aslan Hierate lies to spinward of the Imperium and Solomani Confederation, with a long history of warfare and border tensions. The interplay between its many warrior clans can seem incomprehensible to outsiders, but there are strict rules of courtesy and deference governing every interaction. Learn how the Hierate functions and why its young landless warriors are a threat to all nearby civilisations.
The K'Kree
The Two Thousand Worlds of the K'Kree are almost entirely forbidden to meat-eating outsiders. On these worlds, the K'Kree have exterminated or domesticated all species of carnivore and have explicitly stated they intend to do the same to all meat-eating-races in Charted Space. This book shows the role of family and clan in K'Kree affairs, and why the K'Kree are the single greatest threat to Charted Space.
The Vargr
Descended from Terran wolves uplifted by the Ancients, the Vargr are widely known for their obsession with personal charisma and their preference for raiding rather than building. Vargr states tend to be short-lived, built around a cult of personality rather than a nation. This book reveals how a raider or pirate band operates, and how successful leaders transition from pirates to statesmen.
The Zhodani
Transplanted long ago by the Ancients, the Zhodani developed a society based on the ability to wield psionic powers. Considered by many to be a thought-police state, the Zhodani Consulate is stable, apparently benevolent, and its people are happy. Aliens of Charted Space Volume 1 reveals the secrets kept by the Tavrchedl', or 'Guardians of our Morality', and the Zhodani Core Expeditions.
Mongoose Publishing is completely dedicated to your total satisfaction. If you have any suggestions or comments please email us at sales@mongoosepublishing.com.
Making A Purchase
Making a purchase could not be easier. Just browse our catalogue, and click on any items that you wish to buy and put them into the shopping cart. After you have finished your selection, click on 'Order' and you will be asked for a few details that we need to be able to satisfy the order.
We accept credit and debit card payment, as well as PayPal. If you are shopping from anywhere outside the US or UK, place your order and your credit card company will convert the transaction to your own currency. We accept all major credit cards.
Shipping And Handling
Shipping is currently charged at a flat rate of $8 for customers in the US or £4 for customers in the UK, or $18/£8 for orders anywhere else in the world.
Domestic orders with a regular street address will usually be sent out via the post office.
Orders over £100 to UK addresses or $150 to US addresses will be free of postage charges. This includes military BFPO/AFPO addresses.
Delivery Schedule
We will process your order right away. We aim to turnaround orders within one working day, but please allow 14 days for delivery if you are overseas.
Returns Policy
If you are not completely satisfied with your order, we guarantee to exchange any goods or refund your money, for whatever reason.  We guarantee all of our products.
Before returning unsatisfactory goods please contact us.
PLEASE NOTE: Mongoose Publishing is not responsible for costs incurred in supplying or returning correctly supplied and undamaged goods. We recommend that returned items are sent by Recorded Delivery. In the case of wrongly supplied or damaged goods we will refund your postage costs.
Mongoose Publishing reserves the right to alter or amend the specifications and/or prices of the products offered for sale, or withdraw them completely without prior notice.
Our Guarantee is in addition to your statutory rights.
Credit Card Security
We know of no documented cases of credit card fraud using our shopping system over the Internet. All credit card numbers are encrypted in the software when the order is placed using 128 bit encryption. They are not held in clear text on any web site.
Guarantee
We like our customers to be pleased with their purchases, and will replace or exchange any item with which you are not fully satisfied within a period of 30 days as long as the item is returned to us in saleable condition.
Reaching Us
If you need to reach us, please email us on sales@mongoosepublishing.com, or write to us at Mongoose Publishing, 52-54 Cricklade Road, Swindon, Wilts, SN2 8AF, United Kingdom.
Privacy Policy
Mongoose Publishing does not disclose buyers information to third parties. Cookies are used on this shopping site, but only to keep track of the contents of your shopping cart once you have selected an item.